Motor Racing Memories 2022 Calendar
Product ID: MHCalendar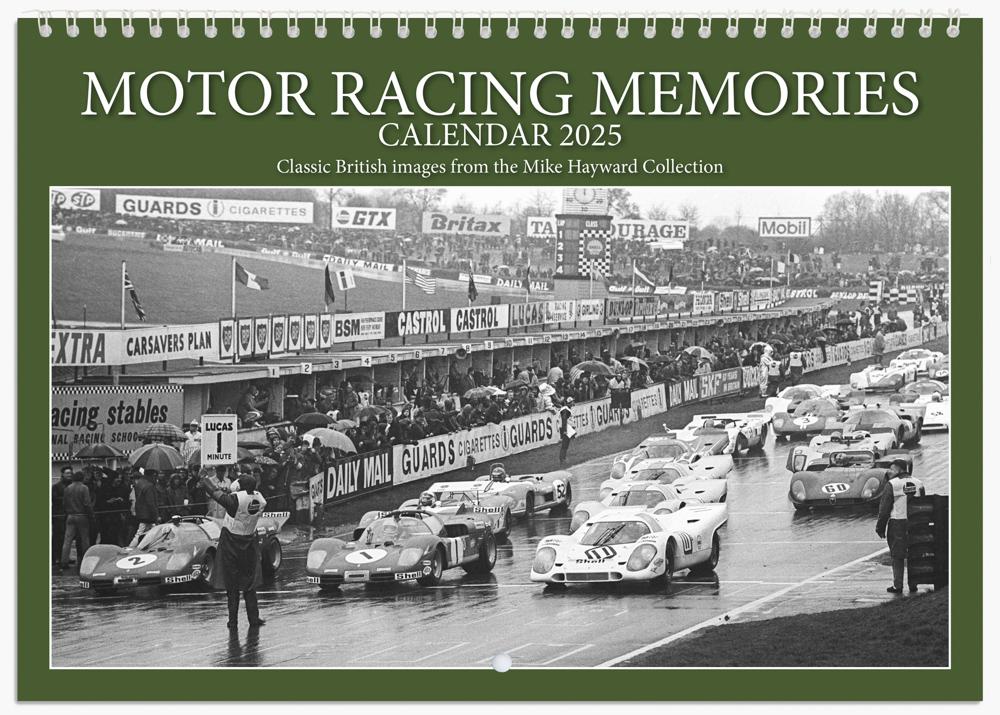 £11.95 (inc UK P&P)

SOLD OUT
Highlights of British motor sport from 1965 to 1992 feature in the Motor Racing Memories Calendar 2022 from the Mike Hayward Collection.

Iconic images include F1, F2, F3, Touring Cars, RAC Rally, Sports Cars and HIll Climbs, along with some of the great names in motor racing such as Graham Hill, Clay Regazzoni and Pedro Rodriguez.

The cover picture shows the starting grid at the Silverstone International Trophy in 1971, with a line-up of Chris Amon, Jackie Stewart, Emerson Fittipaldi and John Surtees.

Probably the most spectacular image in the calendar is of Gerry Marshall on two wheels with his Vauxhall Magnum at Silverstone in 1975.

The earliest picture is from 1965 and shows the F3 cars of Piers Courage, Charles Lucas and Peter Gethin in the paddock at the Oulton Park Spring International meeting.

The calendar is A4 in size, opening out to A3 in use, and is printed in the UK. It fits into Royal Mail's large letter category and is supplied with a mailing envelope.

The Motor Racing Memories Calendar 2022 costs £11.95, with free postage in the UK.

Environmental note: Our calendar is printed in the UK and is fully recyclable.
The images on this website are owned by The Mike Hayward Collection. Unauthorised use is prohibited by law under the Copyright, Designs and Patents Act 1988