Autobiography of Porsche 917-023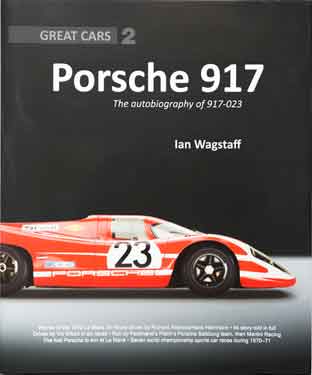 Just published is the excellent and informative Porsche 917, the autobiography of 917-023, written by Ian Wagstaff, which we are delighted to say contains several of our images.
This iconic car was driven to victory in seven world championship sports car races during 1970 and 1971.
The book tells the story of the first Porsche to win the Le Mans 24 Hours, driven by Richard Attwood and Hans Herrmann.
Every aspect of the 917 is covered, from a history of Porsche to biographies of the drivers.
In addition to pictures of the car itself, Ian Wagstaff has used images from the Mike Hayward Collection showing Denny Hulme and Kurt Ahrens at an early stage in their careers.
He also includes one of our photographs depicting the car on its way to second place at the 1970 BOAC 1000K.
This is an extremely well-produced book that would grace the bookshelf of any motor racing enthusiast.
It is published by Porter Press International and is part of the prestigious Great Cars series of motoring books www.porterpress.co.uk
Published by The Mike Hayward Collection on (modified )