New images of 1995 British Grand Prix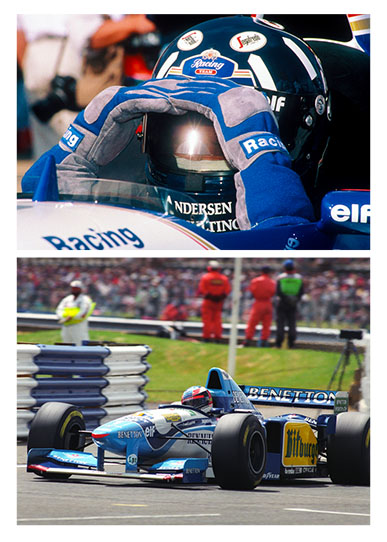 New images of the 1995 British Grand Prix at Silverstone have just been added to the website.
Victory on the day went to Johnny Herbert driving a Benetton, followed by Jean Alesi in a Ferrari and David Coulthard in a Williams.
The race was notable for a collision at Priory Corner between Damon Hill - pictured right shielding his eyes from the sun - and Michael Schumacher.
While fighting for the lead, Hill launched his Williams inside Schumacher's Benetton - also pictured right - which resulted in a coming together and the retirement of both drivers.
They were being followed by Johnny Herbert who was therefore elevated to first position and went on to score his first GP win in 74 attempts.
I used Nikon equipment to photograph qualifying and the actual race.
The majority of pictures were taken with a 500mm Nikkor lens, essential for a circuit like Silverstone where you can't get close to the action.
Published by The Mike Hayward Collection on (modified )