Battle of the titans at 1964 Oulton Park Gold Cup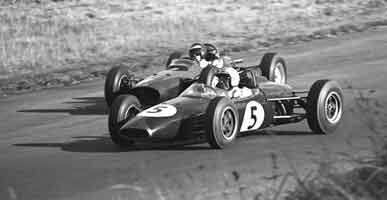 Traditionally an event for F1 cars, the 1964 Oulton Park Gold Cup was the first Formula Two event to be held at the circuit.
It was a thrilling race which I watched from a home-made stand at Knickerbrook.
I used a Praktica 1V 35mm SLR with a Prinzflex 200mm lens - not the best camera for action photography as it didn't have an instant return mirror, so taking a picture resulted in a blacked-out viewfinder until the film was wound on.
Jim Clark led initially with his Ron Harris Lotus, chased very closely by Jack Brabham, Denny Hulme and Graham Hill, all in Brabhams.
By half distance Hill and Hulme had retired, leaving Clark and Brabham to have a titanic scrap for the lead (pictured).
The Australian crossed the line 0.2 sec ahead of the Lotus and both drivers got a standing ovation from the large crowd.
Graham Hill drove wearing an inflatable neck brace having suffered a whiplash injury when crashing a BRM while testing at Snetterton.
Those were good days for the spectator when grand prix drivers were regularly seen on British circuits in a variety of cars.
Published by The Mike Hayward Collection on (modified )