New images added of 1950s sports cars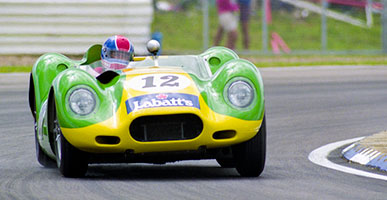 We have recently added some new images to the Mike Hayward Collection of classic British motor sport photographs.
They were taken at the Labatts World Endurance 1950s Sports Car Race which supported the 1993 British Grand Prix at Silverstone.
The race was one of three held that year, the others being at the French GP at Magny-Cours and the Belgian GP at Spa.
The Silverstone race featured a Le Mans start with a quarter of the entry made up of Jaguar C and D types.
Other models that were represented included Aston Martin, Connaught, Lotus, Ferrari and Maserati.
The picture opposite shows Steve O'Rourke driving a Lister Jaguar 'Knobbly'.
Published by The Mike Hayward Collection on (modified )