Fascinating history of an ERA filler cap!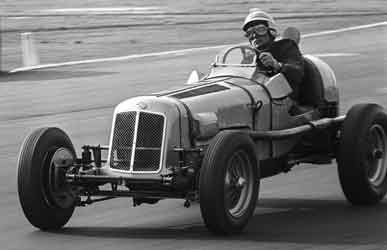 This week I posted a picture on Facebook of Martin Morris driving an ERA R11B at Silverstone in 1970.
I took the photograph during the Aston Martin Owners' Club Historic Race which was held at the Martini Trophy meeting.
Stuart Davidson commented on the fuel filler cap sticking up behind the driver (pictured right) which prompted the following fascinating post from David Morris:
'That filler cap has an interesting history. It was fitted to the car in about 1959, after Douglas Hull had done some careless parking!!!
'Actually he hit a brick wall at Silverstone backwards and unsurprisingly a new tail was needed.
'This was done by the Gray brothers, who made all the ERA bodies. But they were fully occupied making the Vanwall bodies and in order to speed up Humphrey's tail, fitted the latest Vanwall filler cap that they had just made.
'From memory it used to have the number written inside and might have been VW10?
'It's been painted over, of course l blame Duncan, but he is probably innocent. So if a Vanwall has a poor fitting cap, we all know why!'
Thanks for the information David!
Published by The Mike Hayward Collection on