Heady days of 1967 Oulton Park Gold Cup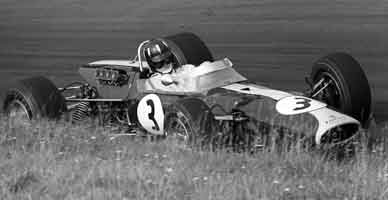 I've been getting nostalgic while taking a look back at the 1967 Oulton Park Gold Cup.
This was in the days when lucky spectators got to see their heroes more than once a year and in a variety of different machinery.
For 1967 the race was for F1 and F2 cars, with the premier category represented only by the works Brabhams of Jack Brabham and Frank Gardner and another BT23A for George Pitt.
It was a different story for the F2 category, however, with a superb entry list.
The line-up included Tyrrell Matras for Jackie Stewart and Jacky Ickx, and the works Matras of Jean-Pierre Beltoise and Henri Pescarolo.
In addition there were Roy Winkelmann Brabhams for Jochen Rindt and Alan Rees, and works Lotuses for Graham Hill and Jackie Oliver.
Not surprisingly, Brabham won the race in his BT24 although the F2 cars were not that far behind.
A great deal of passing and re-passing took place before Jackie Stewart secured second place with Graham Hill - pictured here at Esso Bend - just pipping Jo Schlesser's Matra for third.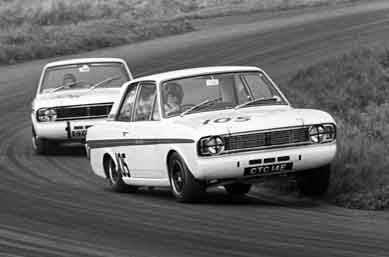 Spectators still had a treat in store when some of the top drivers came back out for the touring car race!
Frank Gardner won in a Ford Falcon while a spectacular display was put on by Graham Hill and Jacky Ickx in works Lotus Cortinas, pictured here at Cascades Bend.
I photographed the event using Pentax Spotmatic and SV cameras with 105mm and 200mm lenses with Kodak Tri-X film. Films and prints developed in our attic!
Published by The Mike Hayward Collection on