Racing in the rain - a photographer's tale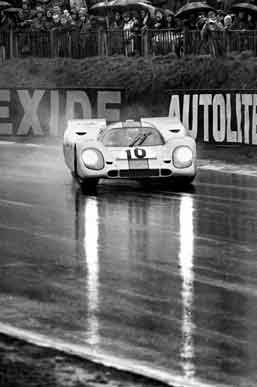 Sitting here watching the rain lashing down - yet again - got me thinking about all the wet races I've been to in the past.
Most notable was the 1970 BOAC 1000K when Pedro Rodriguez, pictured right, put on one of the most amazing wet weather driving displays in a Gulf Porsche 917 at Brands Hatch.
This is my favourite - and the most published - image from the entire Mike Hayward Collection.
I also have fond memories of Ayrton Senna's amazing drive to victory in the European GP at Donington in 1993, when he took his McLaren past four cars on the first lap.
Yet another soggy day was the 1969 Martini Trophy for sports cars at Silverstone which was held in a downpour. Victory went to Chris Craft driving a Lola T70 with rain bouncing up off the track.
One more from a seemingly endless list was the John Player F2 race at Oulton Park in 1972. This was won by Niki Lauda driving a March 722 in dreadful conditions.
Photographing motor sport in the rain is not my idea of enjoying myself, but the pictures can certainly be spectacular.
Published by The Mike Hayward Collection on (modified )