My first image of Stirling Moss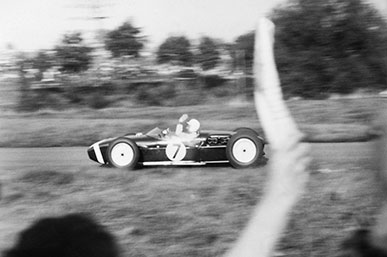 My earliest motor sport image is this picture of Stirling Moss on his lap of honour after winning the 1960 Gold Cup at Oulton Park .
I was 13 years old at the time and snapped my hero with a Brownie Cresta camera from a home made stand at Knickerbrook Corner.
It was a day of brilliant sunshine, and I was spectating with my dad and 30,000 other people.
Sir Stirling started from pole position with his Rob Walker Lotus 18 but soon found himself chasing Jack Brabham, Jim Clark and Innes Ireland.
Clark was eliminated thanks to a collision while lapping Brian Naylor at Lodge Corner.
Innes Ireland was having a brilliant race in a works Lotus, leading Moss and Brabham until he suffered gearbox failure, leaving Sir Stirling to win from Brabham and Graham Hill's BRM.
The large crowd thoroughly enjoyed the race and invaded the circuit for the winner's parade lap on the back of a Sunbeam Rapier.
Published by The Mike Hayward Collection on (modified )