Back to the future for 2016 Gold Cup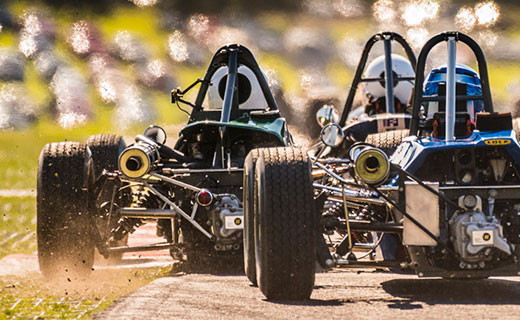 Had a great time at the Oulton Park Gold Cup, the circuit where I had my first track pass in 1965! That day at the Spring Cup meeting I was photographing some of the same cars that were competing at this year's Gold Cup.
Another highlight of the 2016 weekend was having an image of mine from the 1965 Tourist Trophy, featuring Jack Sears, used in the event programme.
The inaugural Gold Cup was won by my hero, Stirling Moss, in 1954. The first time I saw him win there was in 1960 driving a Rob Walker Lotus 18, and then again in 1961 with the Ferguson 4WD P99.
Other winners over the years have included Jim Clark, Jack Brabham, John Surtees and Jackie Stewart.
The best racing of this year's weekend came from the HSCC Formula Ford championship where cars were almost glued together in wonderful close racing - pictured right are some Formula Fords exiting Old Hall Corner. Other cars in action included F1, F5000, Formula Junior and Touring Cars.
Excellent weather was a real bonus as I have memories of watching racing at Oulton in cold, damp conditions. Very much looking forward to next year!
Published by The Mike Hayward Collection on (modified )