Memories of Bruce McLaren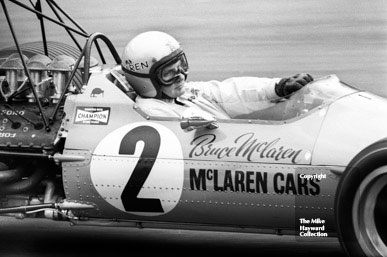 On this day in 1970 I was driving in Shropshire when the news came on the radio that Bruce McLaren had been killed at Goodwood while testing a Can-Am sports car.
I had to pull over and stop for some time, shocked at the loss of one of those drivers you never thought it would happen to.
The first time I photographed Bruce was at the 1965 TT at Oulton Park where he was driving his McLaren Oldsmobile.
Three years later I saw him in F1 for the first time at the 1968 Race of Champions where he drove his
McLaren Ford M7A/1 to victory and collected the princely sum of £500!
My favourite image is one I took at Druids Hairpin during the 1968 GP at Brands Hatch (seen right). Bruce looks very relaxed in his McLaren M7A heading for 7th place.
So much was achieved by someone who was told at the age of 10 that he would never walk again after developing a hip disorder.
Bruce went on to become the youngest driver to win a world championship grand prix driving for Cooper at Sebring in 1959.
Published by The Mike Hayward Collection on (modified )