King of F2 in action at Thruxton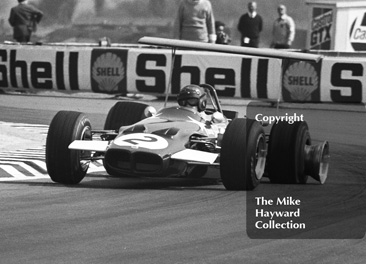 Jochen Rindt really was the king of Formula Two in the late 1960s. I was lucky enough to photograph him racing in F2 at Brands Hatch, Oulton Park, Snetterton and, most notably, Thruxton.
Jochen drove Brabhams for the Roy Winkelmann team and put his BT23C on pole for the second heat of the Easter Monday event at Thruxton in 1968.
Having won that he started at the head of the field for the 54-lap final ahead of Jean-Pierre Beltoise and Piers Courage. He was leading on lap 13 when the Brabham spun at the entrance to the chicane. Rindt went backwards through an advertising hoarding and disappeared into a ditch.
For many drivers this would have been the end of the race, but not for the Austrian. Keeping the engine running he popped out with the car covered in dust and continued with the race. He soon passed Beltoise's Matra to go into the lead and carried on to victory.
Back at Thruxton in 1969, this time with a Lotus 59 and Graham Hill as team mate, Jochen took the lead in the first heat but then suffered a puncture, dropping him well down the field.
He started the final from the back of the grid but took only 19 laps and a new lap record to take the lead from the likes of Jackie Stewart, Beltoise and Pescarolo, all in Matras.
What makes this even more amazing is that he achieved all this success while also competing in Formula One and sports cars.
Published by The Mike Hayward Collection on