Grand Prix masters in the rain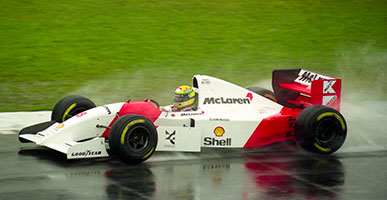 Watching this year's soaking wet Brazilian Grand Prix - and in particular Max Verstappen's tremendous drive through the field - brought back obvious memories of Ayrton Senna's amazing victory at the 1993 European Grand Prix at Donington.
Senna, pictured right, riving a McLaren MP/4, passed Michael Schumacher, Karl Wendlinger, Damon Hill and Alain Prost on the opening lap in pouring rain.
Hill brought his Williams home in second place in a race dominated by pit stops, while third-placed Alain Prost made seven stops in all compared to Senna's four.
Verstappen fell to 13th in Brazil due to a pit stop but fought back to get his Red Bull to third place behind Hamilton and Rosberg.
Now it's all down to the last race in Abu Dhabi to decide this year's title between Lewis Hamilton and Nico Rosberg. Let's hope the safety car doesn't feature as much as it did at Interlagos!
Published by The Mike Hayward Collection on (modified )