Memories of the 1965 Spring Trophy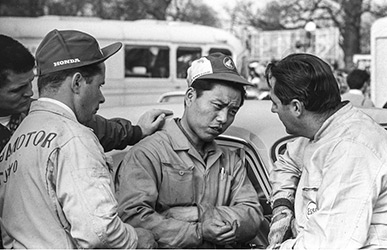 A customer print order brought back some very happy memories from the 1965 Spring Trophy meeting at Oulton Park.
As usual, my father and I had installed ourselves at Knickerbrook with a homemade stand constructed from a plank of wood supported by electrical conduit. We were both keen amateur photographers and were armed with a Praktica 4 and a Pentax SV, fitted with 200mm and 105mm lenses.
During a stroll in the paddock Dad spotted the press office, waltzed in and uttered the magic word 'freelance'. We emerged sporting lovely linen press armbands - my first experience of being on the other side of the fence! To say I enjoyed it would be an understatement, as getting close to my heroes with a camera was wonderful.
The main race of the day was for F2 cars, and Jack Brabham (pictured right in deep conversation with mechanics) was there trying out a Honda engine. The car was so slow in practice that he offered to withdraw from the race but was persuaded by the organisers to carry on. He managed 17 laps at the back of the field before retiring. Very much the shape of things to come however!
Brabham's team mate, Denny Hulme, won the race, with Jackie Stewart runner-up in a Cooper BRM and Alan Rees finishing third with a Winkelmann Brabham. Hulme's average speed was higher than the previous F2 lap record set by Jim Clark the year before. Fastest in a straight line was Graham Hill's Brabham BRM with 128.7mph.
All in all a great day, with Roy Pierpoint winning the saloon race in a Ford Mustang and Roy Pike the F3 race in a Brabham. Then it was back to the Mini Minor and home to process the films in the attic. Wonderful days!
Published by The Mike Hayward Collection on (modified )