Ickx and Hill on the limit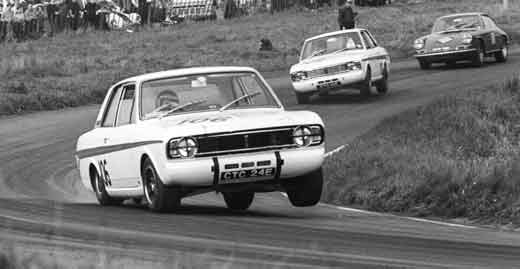 Watching the first round of this year's British Touring Car Championship on television brought back memories of the competition in the 60s.
Hotly contested races with grand prix drivers at the wheel made for spectacular racing.
Graham Hill was a regular in the BTCC with a list of cars including Ford Galaxies, Jaguar 3.8s and Lotus Cortinas.
Dan Gurney had a crack with a Galaxie and Jack Brabham drove Ford Mustangs.
Among the most spectacular drivers was Jim Clark who won the drivers championship in 1964.
One memory that stands out for me is from my visit to the 1967 Gold Cup meeting at Oulton Park.
Graham Hill and Jacky Ickx were in works Lotus Cortinas challenging the Ford Falcons of Roy Pierpoint and Frank Gardner.
Seeing the Cortinas taking Cascades Bend on two wheels was a truly memorable sight (pictured right).
Today's racing is also spectacular and very competitive with really close racing making a welcome change from processional grand prix racing.
Published by The Mike Hayward Collection on (modified )