GT40: Best of the best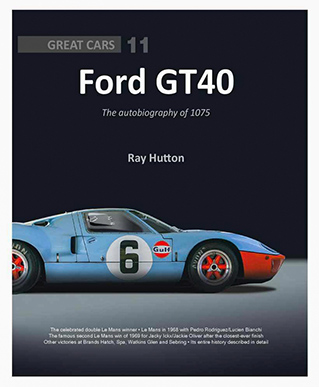 Some motor sport books stand out on the crowded shelves, and Ford GT40 by Ray Hutton is way up there with the best.
The book is the autobiography of GT40 1075, the car that won Le Mans twice - in 1968 and 1969. It just oozes quality from start to finish and has a wonderful collection of images and text right down to the finest detail.
I was lucky to see and photograph the car in action at the BOAC 500 in 1968. It was driven by Jacky Ickx and Brian Redman and won by just 22 seconds from the Mitter/Scarfiotti Porsche 907.
Run by J W Automotive Engineering in the iconic blue and orange colours, this car - the most successful GT40 of all - raced on 11 occasions in two seasons and notched up six victories.
The book also traces the history of the car's drivers - Jacky Ickx, Brian Redman, Jackie Oliver, Pedro Rodriguez, Lucien Bianchi, Paul Hawkins, David Hobbs and Mike Hailwood.
The icing on the cake for me is the use of three of my images! There are two of Paul Hawkins (here and here) and one of Mike Hailwood.
:: Ford GT40, the autobiography of 1075, by Ray Hutton is published by Porter Press International Ltd
Published by The Mike Hayward Collection on (modified )