Remembering Chris Amon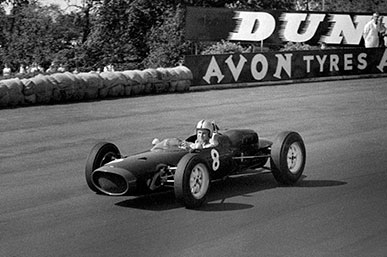 It was very sad to hear of the death of Chris Amon at the age of 73. The first time I saw him race was at Mallory Park in 1963 (pictured right) when he won the Midlands Trophy Formula Libre race at Mallory Park, driving a Reg Parnell 2.7 litre Lola-Climax.
Patrick McNally, writing in Autosport at the time, described Chris as 'a man to watch, as he gave a very polished display on the tricky Midland circuit'.
By 1967 Chris was a works Ferrari driver, and I photographed him driving to third place at the British Grand Prix at Silverstone. He went on to finish fifth in the world championship that year.
The following year, still with Ferrari, Chris had a long battle for the lead with Jo Siffert at the British GP at Brands Hatch, finishing second just behind the Lotus.
He never achieved a Grand Prix win, despite being considered one of the best drivers of the era.
Bad luck followed him throughout his career, and Mario Andretti once said that if Chris was an undertaker people would stop dying!
During his career Chris drove 13 makes of F1 car, more than any other driver.
He won eight non-championship GPs, the Silverstone International Trophy, the 1000 km Monza, the Daytona 24 Hours, the Tasman Series and, perhaps most significant of all, the Le Mans 24 hour race alongside fellow New Zealander Bruce McLaren.
Retirement came in 1977, when he returned to New Zealand to run the family farm. Chris was awarded an MBE for services to motorsport in 1993.
Published by The Mike Hayward Collection on (modified )