Up close and personal at Silverstone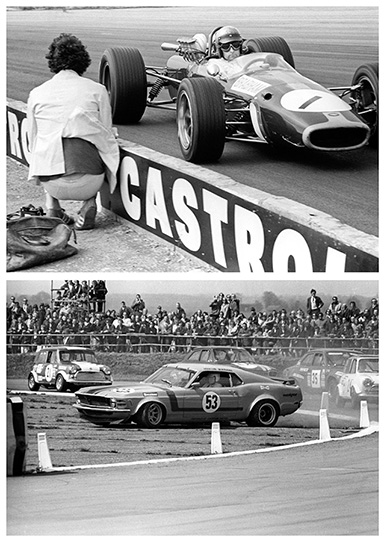 For some reason, photographers in the 1960s (myself included) never considered it particularly dangerous to stand or kneel on the apex of bends at Silverstone.
I always worked on the basis that, in the event of any mishap, centrifugal force would direct the cars outwards!
It was common to see a line of photographers positioned at bends such as Copse or Becketts with cars streaming past just a few feet away at more than 100mph.
The concrete walls that were sited at some of the bends gave an added feeling of security, as well as somewhere to rest your elbow!
Really good pictures could be taken with relatively short lenses. My favourites were 105mm and 200mm. Anything shorter tended to produce distorted images of the cars if you weren't careful.
Then, in the late 1960s, the walls were replaced with a few plastic markers. This reduced the number of photographers and eventually the area was prohibited.
Although a backward step for photography, this was definitely good news as far as safety issues were concerned.
Take a look at the picture opposite - one wonders what would have happened if photographers had been on the inside when Martin Birrane explored the infield with his Mustang at the International Trophy in 1971!
Published by The Mike Hayward Collection on (modified )