Rebirth of an Alan Mann classic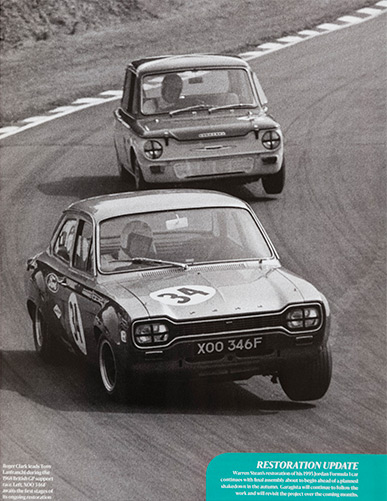 Delighted to see my image of XOO 346F, an Alan Mann Gp5 Ford Escort, accompanying a feature on the car's restoration in the current issue of Motor Sport magazine.
The picture shows Roger Clark leading Tony Lanfranchi at Bottom Bend during the touring car race that supported the 1968 British Grand Prix at Brands Hatch.
The car retired following a collision with Brian Robinson's Lotus Cortina after qualifying in 5th place.
Today the car, which was also driven in its heyday by Graham Hill, Peter Arundell and Jackie Oliver, is owned by Graham Goudie who hopes to have the restoration completed by the end of the year.
Published by The Mike Hayward Collection on (modified )