New images added from 1963 Gold Cup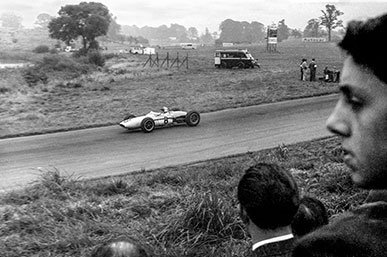 Previously unseen pictures from the 1963 Formula One Oulton Park Gold Cup have been added to the Mike Hayward Collection of classic British motor sport images.
I was aged 16 at the time I took the photographs, stationed on our home-made stand at Knickerbrook and armed with a borrowed Voigtlander Vito B rangefinder camera.
The race was one of the many non-championship Formula One races that used to be a regular feature on the British calendar.
It was run over 73 laps and was won convincingly by Jim Clark in a Lotus Climax 25 in 2 hours 2 mins, which is much longer than a modern grand prix.
Clark clocked the first 100mph lap of the Cheshire circuit, finishing over 22 secs ahead of BRM team-mates Richie Ginther in second place and reigning world champion Graham Hill in third.
Pictured right is Innes Ireland who went on to miss a gear change and blew up the engine of his Lotus BRM.
After watching wins in the supporting races for Dan Gurney in a Ford Galaxie and Roy Salvadori in a Cooper Monaco, it was time to head back home before taking my film to the local chemist to be developed!
Published by The Mike Hayward Collection on (modified )